Making Your Event 'Spooktacular' With Color Copies USA!
Halloween is just around the corner, and it's time to start planning your epic Halloween party or event for 2023. Whether you're hosting a haunted house, a costume contest, a ghoulish gathering, or a great sales event, the key to a memorable Halloween celebration lies in the details.
What better way to set the spooky tone than with printed materials from Color Copies USA? In this blog, we'll share creative Halloween party ideas for 2023 and show you how Color Copies USA's online printing services can bring your frightening festivities to life.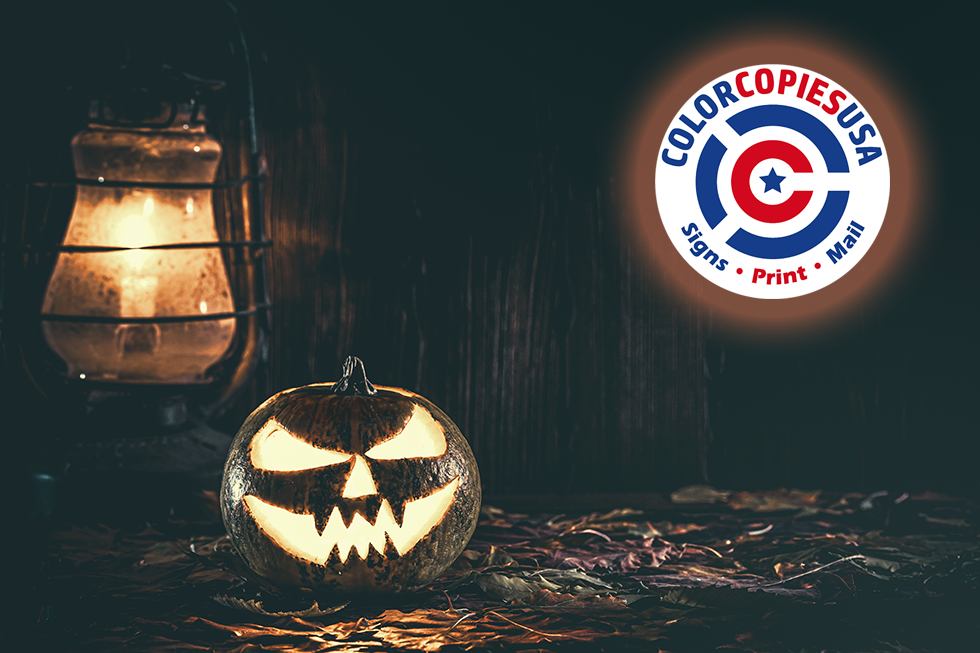 Halloween Invitations That Set the Tone
Halloween parties are all about creating anticipation and excitement, and your invitations should do just that. Instead of sending digital invites, opt for printed Halloween invitations that scream "spooky fun." Choose eerie color schemes, haunted house designs, or classic pumpkin motifs.
Make your event even more exclusive with custom-printed event tickets! Sending your guests bespoke tickets for your party will definitely set the tone!
Color Copies USA offers a wide range of customization options to make your invitations truly unique. Don't forget to include important event details, RSVP information, and a hint of mystery to pique your guests' curiosity.
Recap
In this section, we discussed the importance of Halloween invitations and how they set the tone for your event. We are the go-to online printing company for all your printing needs.
Spine-Chilling Stickers and Decor
To transform your venue into a Halloween wonderland, consider using custom Halloween-themed stickers and decorations. These can include spooky labels for drinks, wall decals, and eerie window clings.
Our online printing services ensure vibrant and eye-catching designs that will give your party that extra "wow" factor. These stickers and decor elements can be used to add a touch of fright to your party space, from entranceways to tabletops.
Recap
Halloween-themed stickers and decor help create the ambiance of your Halloween party. We provide high-quality online printing services for any party or event.
Promote Your Event with Mailers
If you want to create buzz and excitement around your Halloween event, send out promotional mailers. These can be designed to resemble eerie scrolls or sinister scrolls, creating intrigue. Include information about your party, special offers, and spooky surprises to entice your guests.
With Color Copies USA's online printing services, you can create eye-catching mailers that will leave a lasting impression.
Recap
Use mailers to promote your Halloween party or event. Our capability to handle various printing needs, including promotional materials will ensure yours get yours done right the first time.
Hauntingly Beautiful Banners
Banners are a fantastic way to showcase your Halloween spirit and create a memorable backdrop for photos. Consider large, custom-printed banners featuring eerie landscapes, creepy creatures, or your event's logo.
Color Copies USA ensures high-quality color printing that will make your regular or retractable banners pop and add a spooky atmosphere to your party space.
Recap
Banners are a powerful decoration and branding tool for your Halloween party. Our team's expertise in creating stunning banners.
Menus and Drink Lists That Tantalize
No Halloween party is complete without a themed menu and drink list. Create a spine-tingling selection of treats and beverages that match your event's theme. Color Copies USA can help you design and print menus and drink lists that look both captivating and ominous. Whether it's "Witch's Brew" or "Zombie Finger Sandwiches," your guests will appreciate the extra effort you put into the details.
Recap
Halloween-themed menus and drink lists enhance the overall experience of your event. We can design and print yours to create a captivating design.
Conclusion
With Halloween just around the corner, it's time to start planning your 2023 Halloween party or event. Make it an unforgettable experience by using Color Copies USA's online printing services for all your printing needs. From invitations and stickers to mailers, banners, menus, and drink lists, we have you covered with high-quality color printing that will bring your Halloween vision to life.
So, get ready to spook and delight your guests, and let Color Copies USA be your printing partner in making this year's Halloween celebration a monstrous success. Happy Halloween!Call us today at 877-421-0668 to get your order started.