A lot more goes into launching a stationery line than just designing it. From market research to ensuring the quality of each product to figuring out shipping costs and methods, many things can go wrong. But don't be disheartened!
Our step-by-step guide can help ensure success for your stationery business.
Let's take a look at the steps in detail: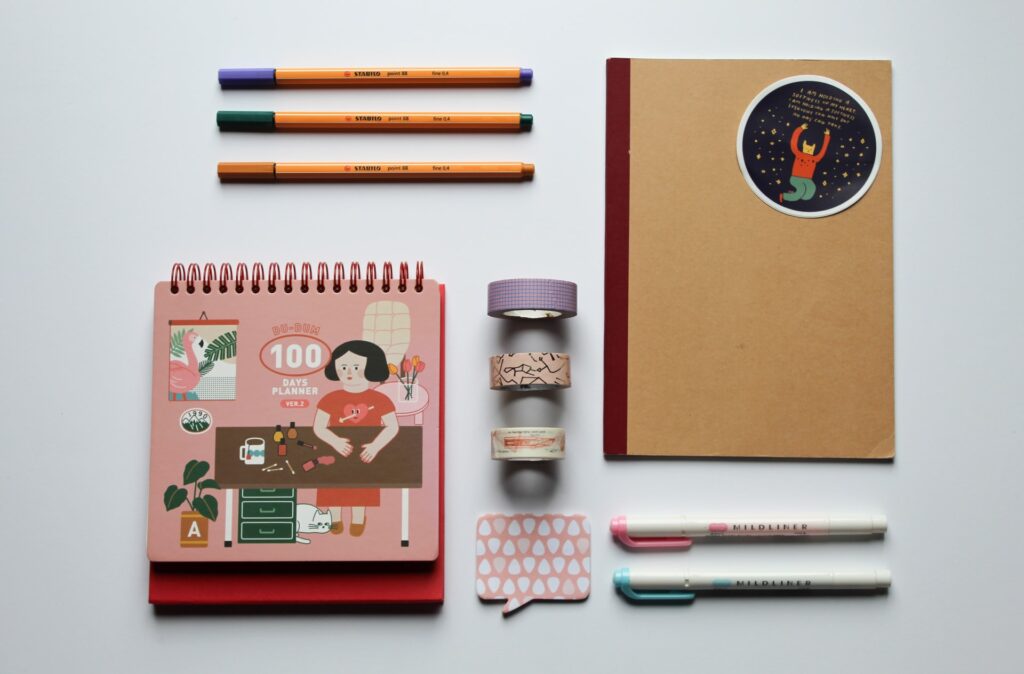 Conduct Market Research
While you may know the names of all big and small stationery businesses available in the market, this knowledge is not a market search. Even if you want to launch a stationery business for the sheer passion of cute stationery, you need to put aside your love for cute things and look at it solely as a business. Thorough market research will also help you move away from personal bias. Personal bias is natural, and anyone can fall into its trap. However, thorough market research will help you get away from it and identify the following for you:
Your customers
Your customers' buying habits
The amount your customers are willing to spend
Your competition
Strengths and weaknesses of your competition
Once you have identified the above factors, you can move on to the next step.
Define Your Role
As a small business owner, it's a given that you'll have to do everything by yourself in the beginning. However, the sooner you narrow down your role or at least your primary role for the future, the easier it will become for you to sustain your stationery business.
Let's say you are a designer and want to launch a stationery line with your original designs. In this scenario, once your business grows, you can outsource customer handling or finances to someone else. While you may be tempted to do everything by yourself to maximize your profit, handling everything by yourself can end up distracting you from your primary role.
Start Small
Instead of multiple products, start with one product in the highest demand in the market. For example, if postcards are the most in-demand item per your market research, launch your stationery business with postcards only. Decide on a theme, pick a color palette, and create five to fifteen designs for postcards.
Once you are happy with the response on your first product, you can add to it in various ways. For example, you can use the designs you created for postcards as notebook covers or greeting cards. On the other hand, you can also create more postcard designs in the same theme and add them to the existing collections.
Sticking to themes and a smaller variety of products helps create collections. Collections enhance the exclusivity of your products and make them stand out. Always ensure that products in a collection fit each other and look good when placed together.
Don't Compromise on Quality
Maintaining quality is essential to running a business. Find a reliable printer to print high-quality stationery items if you cannot invest in a commercial-scale printer. If you are based in South Florida, check out Color Copies USA . You are welcome to come in and meet the team.
Color Copies USA not only provides high-quality printing services but also provides the option of uploading artworks digitally so you can have your designs printed quickly and easily. Moreover, Color Copies USA also provides free designing software on their website that is perfect for aspiring stationery business owners that aren't professional designers.
Prioritizing quality would help your products speak for themselves. One-time buyers can easily become permanent customers if impressed by product quality.
Sell Through Multiple Channels
For small businesses, the number of sales depends on the number of people aware of their existence. You can increase awareness about your stationery business's existence in the market by selling your products through as many channels as you can.
Create a website and market your products through social media platforms like Instagram and TikTok. You can also put up your products on websites such as Redbubble or Society6 to gain a wider audience or test the demand for your products before launching your website.
You can also sell your products in person by participating in local fairs or pop-ups in malls. Selling your products in person can allow you to introduce yourself and your products to people and establish relationships with your customers. Consumers also love seeing small business owners following their passion and hustling for it.
Finally, remember that consistency is key! Create products in small batches but keep launching new products and collections every few months. You can stick to launching products on special occasions such as Halloween, Christmas, New Year's, etc., for the first year of business for slow but consistent business growth and building a brand image.