5 Printing Ideas for Memorial Day Sales and Events
Running a Memorial Day sale, promotion, or event is a great way to build your business's brand while participating in honoring the tradition. Let's look at 5 ways businesses can promote their Memorial Day sales.
Window banners
The most important key performance indicator for a brick and mortar business is the number of customers that come through the door. Increasing customer inflow can be achieved in a variety of ways, but an effective window banner will make customers act like moths to a flame. Mattress companies, known for having Memorial Day sales, use banners in their windows to raise interest. Your window banner needs to be attractive enough to catch the attention of passersby, yet convey a succinct and potent message that will stick with them.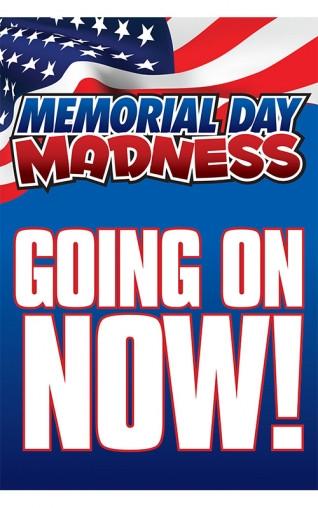 Popup banners
Pop up banners have a similar effect to window banners, but have the added benefit of placement outdoors or in a key area within your store. Some popup banners can move with the wind, thus providing eye-catching motion. Car dealers use a type of pop up banners called feather signs as well, and you can too, regardless of the type of business. Get your message across to people that will be driving by your establishment in the days leading up to Memorial Day.
T-shirts
T-shirts are a mainstay in the promotion department. You can stick out by creating shirts that are tied to the Memorial Day theme. Bonus tip: Create a shirt design that someone would want to wear beyond the holiday; a shirt that isn't too salesy or promotional in nature. A t-shirt that people will continue to wear after Memorial Day will be a walking, living, breathing advertisement for your business for days and months to come. Feel free to use just enough humor or creativity to make a shirt that will match the qualities you want your brand to convey.
Mugs
Mugs, similar to t-shirts, are something that people can hold onto for a long time. The right design can make your mug a favorite for your visitors. Perhaps they will choose to take your mug along to work with them in the morning, filled with their favorite coffee. How about a juice cup for people that either don't drink coffee or would prefer to have the alternative?
Menus or catalogs
If you own a restaurant, a custom Memorial Day menu can create interest in your establishment. Special pricing and unique menu offerings can draw patrons that will be looking to spend time with their friends and loved ones on the 27th. If you would like to get more out of the menus, create a week-long special menu that focuses on the holiday. Coupled with some advertising, you can draw patrons and use other promotional materials to generate repeat customers.
Memorial Day is an important holiday for the history of our country. Participate in the festivities by showing your target market that you share in the commemoration while putting your best foot forward. Attract customers by giving them something that will place your business at the forefront of their mind.