Attendees go to trade shows to learn about the industry and be at the head of new trends. Exhibitors want to create awareness around their services or products and see how their peers are positioning themselves as well.
The hot sauce is that buyers prefer interactive, visual, and multisensory experiences at trade shows. The cherry on top goes to connection.
Trade-Show Value Proposition:
Attendees Learn and  Vendors Build Awareness
There is huge value in in-person meetings at trade shows, and we believe that trade shows are not going anywhere, but it is important to observe what is actually happening.
Growth has been the outcome of win-win events!
Trade shows have played a significant role in B2B,  since this digital-centric century started. Year after year, there had been a sustained growth of the business generated, until Covid-19 and year 2020 arrived.
The big trend:
The following graph, which covers not only trade shows but trade magazines and other advertising venues, tells the story of the impact that Covid might have for years to come. In 2023 we might see levels of exchange similar to what we saw in 2013.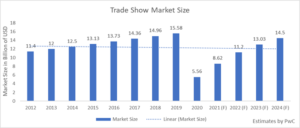 Should your organization return to in-person trade shows when they become possible?
Our clear answer is YES! The US trade show industry will be back faster than what the forecast indicates (our vision) .
Watching over a computer won't stimulate you enough to take action and figure out your future actions. As soon as trade shows start to become "available", we are jumping into them right away.
New Insight: 57% of Attendees to shows indicate that they learned and gained new skills.
Bernardo Szulanski, from Quiken explains that there are five strong reasons to keep being active in the trade-show  business world:
It's human nature to do better in the context of person-to-person interactions: People interacting in the business world find better opportunities to collaborate and do business, especially if they don't know each other
Social networks do not replace in-person meetings: Social networks are a great tool, but nowhere efficient as traditional meetings. To close a deal, we need information about the product or service transacted, but full trust. Non-verbal language can build strong bridges between individuals that could be completely missed in electronic communications.
VR (Virtual Reality) is becoming amazing! It still can't match the excitement generated in meetings, touching goods, and building possibilities.
A trade show tells a story: Just a few hours after you've arrived at a trade show, you get a sense of what's new, what's trendy and what's out of luck. There's no other way to experience such input and have a good time meeting people, products, and learning.
Ever wanted a dedicated audience and dedicated support? At our place of work, an incoming email, a text message or a phone call can change our course of action in a snap. At trade shows, both attendees and exhibitors are 100% focused, leading to more business opportunities.
How to make the most out of your trade show?
For Attendees
As an attendee, carry business cards. This "old-fashioned" still makes it more personal and easier on both ends to follow-up.
As an attendee, take notes, pictures and recordings.
Carry brochures and documentation from the floor of the show. "send me an email" is usually very ineffective both for the exhibitor, but mainly for you. You might be missing a big opportunity to consider a good or a service.
You should always assess for the quality of exhibitors.
For Exhibitors
Authority Power: Just for being there, you are seen as an authority in the matter. That represents a huge advantage in the marketplace.
Firepower! As an exhibitor, make sure that your most experienced team members, including sales and management, are available at the event.
Comfy: Make visitors feel at home. Nice graphics, decor and a coffee bar can make magic happen
Look and Feel: Use different types of graphics and illumination. Posters, fabrics, LED,  and digital signage should be part of what's available at your booth.
Be Thankful: Not only small promotional giveaways and gifts bring prospects to your booths but,  they can become a conversation point.
Database and Data Analysis: Get cards or scan badges from your visitors with a meaningful purpose and have your team save time to make notes! Information leads to closings. You can then measure your ROI.
Collateral: Your brochures, business cards and product samples should always have clear contact information. We suggest you purposely leave white space for writing so that your visitors take notes.
Branding: It is frequent for exhibitors not to properly identify samples. It is always good to mark the packaging, and the products themselves.
Buying Authority: Keep in mind that you'll mostly meet top executives and decision-makers at the show, which saves you so many efforts in your follow-up steps
Follow-Up: Yes…. this is the key to round-up all of your hard work
Cheaper:
---
Conclusion
2020 brought enough discouragement overall to the business world. Many of us might have joined virtual events and learned what is possible, what's not, what works, and what does not.
How engaged did you become in the virtual world? Did we take action as attendee? Did the organizers take meaningful action to the point where it was all worth it? How easy or difficult was it to understand the context?
Covid is slowly on its way out. Winter is over.
Spring and the new opportunities are expanding and so, all of the business activities that we used to enjoy and crave.
It will take some time for it to come back as the forecast says, but being there from day one will open the door to all of the benefits that trade show business and exchange have.
Drop us a few lines sharing your thoughts specifically about this topic.
See you soon.
---
Sources: Statista    / Quiken / Forbes