Brochures VS Pamphlets
Can these two forms of documents be compared to two rivals in a match? Let's find out!
So before we even get into the making of a brochure, let's answer the following question:
"What is the difference between brochures and pamphlets?"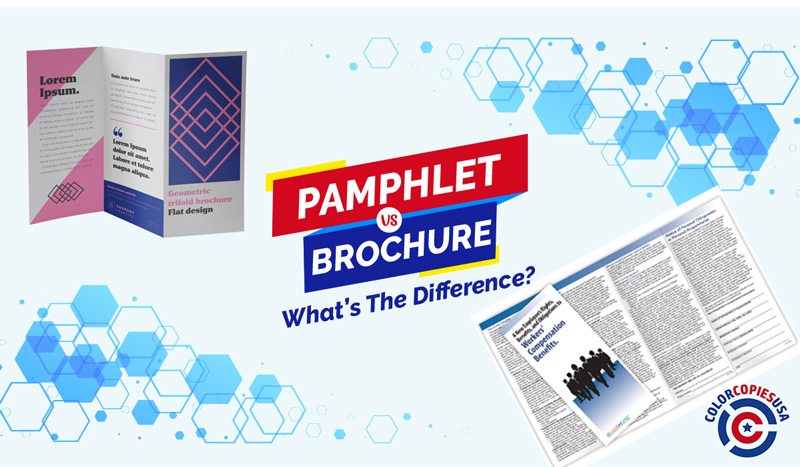 What is a Pamphlet?
There are different definitions and some will describe a pamphlet as a small booklet usually unbound, while others present it as a leaflet. Whichever the shape, they contain information about a single topic or subject.
If you are curious about the origin of the the word, it comes from "Pamphilet", a Latin love poem popular in the 12th century. Only after the invention of the printing press, those loosely bound booklets that were printed, were called pamphlets, very popular in Europe, while the Reform was taking place. In time, some pamphlets became the way to express ideology in political movements.
Nowadays the use of pamphlets is for informational purposes. They could be a single page, of a number of sheets stapled together, or even printed on both sides and folded.
Pamphlets can be as long as a single page, to as many as 48 pages.
What do pamphlets say? Pamphlets introduce you or your company, your products, services and anything that you know that makes you stand out from your competitor.
Tone of the document: The style in them is persuasive, Informal, focused and consistent.
The importance of this document relies on the content, not on the artistic edge of the piece.
What is a Brochure?
Brochures are informative documents. There is usually care in the aesthetics of the document and they look beautiful, well crafted and very nice visual design. Brochures present information about a company or an artist, detail the products or services that hey make available.
What do brochures say? They give voice to your story. Brochures promote your services, your skills and are designed to generate business.
How do brochures build trust? When sharing accurate information that connects to the needs of your audience, almost like magically, trust builds between clients and businesses.
What do brochures look like? Sometimes the document is just a single letter-sheet, delicately printed and tri-folded which provides 6 viewing panels, or folded in half generating 4 panels. On other occasions, a when a double-parallel folding is applied to the document, 8 panels become available that allow for a more organized distribution of the content.
Size of brochures: The typical size is a letter size, but custom sizes, square shapes and tabloid layouts are common as well.
Which paper is suggested for brochures? When you are promoting your business, you want the brochure to represent you in a memorable way. That document that you handed to a prospect might be all that the prospect remembers about you. A memorable document is usually printed on thicker glossy stock, such as 100# gloss text. Using a cover stock is an awesome way to distinguish your document even more.
How to plan the design of a brochure: The first step is to make your notes and determine the scope of information to share. Our culture and habits have made us more visual than readers so plan on balancing the content accordingly. Laying the information onto the document by means of software such as Word, or InDesign, or Illustrator will allow you to present your ideas in the ideal
These two print marketing materials seem very similar after you lay out their definitions. The
most important difference is the subject matter. Pamphlets are used for non-commercial promotion, while brochures are used to advertise products and services. Brochures also typically have more pages and images. Pamphlets can have multiple pages, but are generally contain fewer pages and more words than images to inform the reader. However, these two are used interchangeably or together depending on your marketing needs.
You got them: How do you distribute pamphlets or brochures?
There are several methods to distribute brochures or pamphlets and individuals or companies use.
The traditional way is to hand them to interested individuals. Distribution in streets, stores, events, business meetings and trade shows are just some of the places where a person-to-person interaction drives connection and interest into what you have to offer.
Corporate brochures can be mailed. Pamphlets could be as well, but they are usually not.
Where can I have pamphlets and brochures printed?
ColorCopiesUSA.com offers printing and design services of unmatched quality and at much lower prices than most of the other printing companies. Because ours is a family-owned company, we care sincerely about you, your project and your success.
Connect with us! You are welcome to call us at 1-877-421-0668 or place an order in our this link to go to our product-specific page, where you will receive instant pricing, visual proofs of your files if you upload them and certainty in the production schedule.