Six Printing Techniques That Will Make Your Print Project Stand Out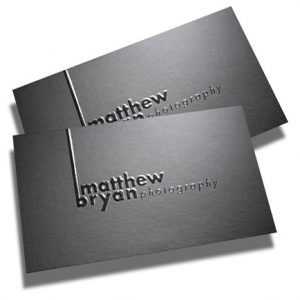 Do you remember the good old days when the most exciting thing you could do to make your printing stand out was to print in color? Printing technologies have evolved over the last 20 years to create commercial presses that are faster and reproduce more sophisticated graphics. Whether it's a fancy wedding card or a textured business card, 21st century techniques give us wonderful printing ideas to make our projects 'pop' and help us to communicate in ways never imagined before!
Printing techniques have also led to the rise of creative industries such as 3D printing, advanced graphic design, press printing, and photo printing just to mention a few. If you are looking for ideas for an eye-opening new business card to make your new prospects say 'WOW!' or a slick new way to package your product, there are many amazing new ideas to select from. Let's discuss some of these printing techniques and ideas that you can rely on to make your print project stand out.
Six printing techniques that are cheaper and easier than ever to use on your project include:
1. Embossing
2. Spot UV – Flat or Raised
3. Foil Stamping
4. Feather Signs
5. Die Cutting
6. Varnishing and Soft Touch Matte Lamination
1. Embossing
This technique of printing has a different technique called debossing. This method of printing involves a press, a metal plate, and a counter. Once a plate is made, it is put on the press and the paper that is to be printed on is laid in between the plate and the counter. Pressure is applied to the counter pushing the paper into the plate to achieve an extrusion. Security features on documents such as official seals use this technique to make impressions on paper.
In debossing, the opposite happens on the paper. The paper achieves print impression in the form of an intrusion or depression. To achieve the best print results when using this method, we need to have sufficient spacing between characters.
2. Spot UV – 3D Spot Raised UV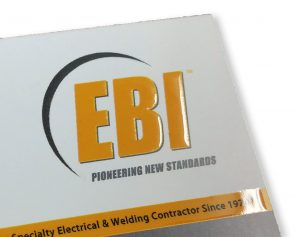 Whenever we hand someone a product catalog or a business card we expect them to last longer in their hands so that they can achieve their marketing purposes. Spot UV is a post-printing coating technique that adds extra shine and protection to a print job. The technology uses UV light to add the varnish that coats a printed cardstock or plain paper.
Spot UV the varnish is commonly used to cover full-color paper items, locking in their color and making the print work shine. Spot UV also acts to protect the print job from damage by moisture or dust scratches. Magazine cover pages, business cards, wedding cards and event tickets are some of the materials that require Spot UV printing.
3D Spot Raised UV applications the amount of varnish applied is physically visible. It is usually about 50 microns thick and your naked eye will see it, and your touch will feel it. This application is mostly used to enhance embellishing of the piece. The positive visual effect on business cards is amazing!
3. Foil Stamping Innovation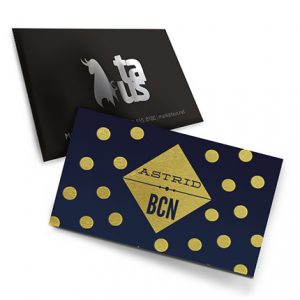 Typical printing techniques are not able to achieve a silver or gold finish. Silver or gold print jobs are unique because they have that memorable 'gilded' or 'shiny' property that evokes precious metal. Foil stamping can be used to make silver or gold prints. This technique can only print vector images or outlined fonts. This method is preferred when printing invitation cards and covers of books.
NEW IN THE INDUSTRY: Since about 1 year ago there is a digital technique that permits to apply foil stamping on the fly, without the need of a die. You can now order a set of business cards with foil stamping without the requirement of producing a metal die, which creates endless opportunities for your invitations, business cards and other marketing pieces
4. Feather Signs
In case a print project is for outdoor use, a preferable method of printing would be feather signs. Feather signs are large cloth-like print jobs that are preferred for the outdoors. A large format printer is used to add text and images on printable vinyl materials.
5. Die Cutting and Laser Cutting
Die to cut is the process of chipping off irregular shapes in cardstocks or paperboards through the use of dies. The technique creates print impressions on paper by extracting shapes from the stock. To use this method one can make unique dies or use custom dies such as a square with two rounded corners.
6. Varnishing and Soft Touch Matte Lamination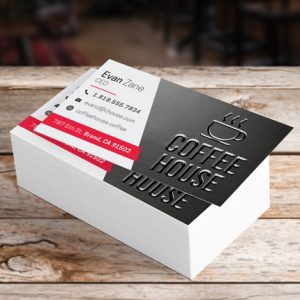 Varnishing, like Spot UV, is also a post-print technique that can be used in making a print project stand out. The method uses a liquid called varnish to achieve a glossy, matte shine or silky on a printed cardstock. When the varnish coats the entire area of the print job, that type of varnishing is known as flood varnishing. This technique can also let you highlight specific areas of your print project.
An alternative to varnishing is the use of hot-applied matte lamination, suede finishing that everyone loves. 3D raised UV contrasts so nicely with the suede finishing that makes one of the most elegant combinations that you can currently get.
All these printing techniques can be used to make your print project unique and attractive. In combination, they can really make your project stand out from the crowd. Applying these 6printing ideas will let your imagination soar and your printing project 'POP'!